RH Wiki
Since the shutting down of official servers on 15 September 2014, the original game is dead and gone (no longer available on Steam). Rusty Hearts: Revolution is your best bet to still play this game.
Rusty Hearts
The evil vampire Count Vlad has taken over Castle Curtis, and it is up to the heroes Angela, Frantz, Tude and Natasha to stop him from bending the world to his every whim. Thankfully, our heroes have a few tricks up their sleeves to help them along their way. Are you ready to jump into the shoes of the heroes, and defeat Vlad? - More
What's new on the Rusty Hearts Wiki
March 2012
February 2012
For old news, see the archive
Helping out
To write a new article, just enter the article title in the box below.
Not sure where to start?
Rusty Hearts Wiki info
As our purpose is to provide complete detailed information, some pages may contain spoilers.
1,878 articles since June 2011
Did You Know...
...that the more monsters you kill in a dungeon, the more experience points you will receive at the end?
...that you need to have a certain class item in order to enter the Blood mode dungeons?
Featured article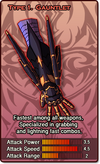 Tude's gauntlet is the fastest weapon in the game. The gauntlet specializes in small confrontations and high combos, due to its quick speed and relatively fast recovery time between normal combos. read more...