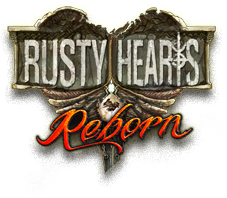 Rusty Hearts: Reborn
is the first major expansion to the
Rusty Hearts
MMORPG. The expansion officially launched to the public July 25, 2012.
The official site describes the following new features to Rusty Hearts in Rusty Hearts: Reborn.
New Character manager and Select Screen
Edit
Quickly navigate the revamped character select screen and easily pick the hero you want to play as. The new character manager makes viewing characters and avatars efficient and fun. View unique animations and native backdrops for each hero and get in the game faster than ever. [1]
Lush Forest Village Hub-World
Edit
Start your avatar's off with a brand new experience exclusively for Meilin, Roselle, Leila and Edgar! Team up with friends and battle monstrous Lizards, sadistic fairies, and fearless vegetation in the new lush forest lands.
Unique New Dungeons
Edit
Engage and thrash new enemies in four new dungeons in the deceptively whimsical forest-lands, including two dungeons in both the South and East forest.
New Immersive Quests
Edit
Challenge yourself to complete dozens of new quests for both new and existing characters given from a variety of allies.
Third Weapon Focus
Edit
Start new and choose a weapon mastery with an all new third weapon focus for each character. Level a new character up to 20 and choose a new focus to perfect including, Twin Swords (Frantz), Glaive (Angela), Demon Hands (Tude) and Weapon Bag (Natasha).
Robust Skill Manager
Edit
Track all previous and newly acquired skills with the robust in-game skill tree. Build your characters abilities through easy to navigate skill branches and empower your character like never before!
Comprehensive Dungeon Book
Edit
Find the exact enemy, boss, weapon, gear, ingredient, etc… with the brand new Dungeon Book. Don't be perplexed about where hard to find items are located. The Dungeon Book helps you find exactly what you're looking for fast and efficient. Stop wasting time and effort guessing where items are and pull up your dungeon book to focus your wrath.
Screenshots
Edit
Community content is available under
CC-BY-SA
unless otherwise noted.