Deathy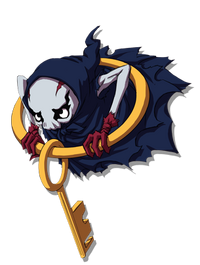 Deathy will show up randomly during a dungeon after clearing a section and offer to open the Other World for you with the Other World Passport, at the cost of all your current Cards.
The protagonists first encounter Deathy in Library 1F.
Deathy needs to be encountered in the storyline before he will randomly appear.
His appearance is tied to a 'cleared' section, thus there is a chance that he may appear at the start of a dungeon. For example, during Capture Poison's Husband, the middle room counts as 'cleared' (Tested 27 December, 2011).
Community content is available under
CC-BY-SA
unless otherwise noted.