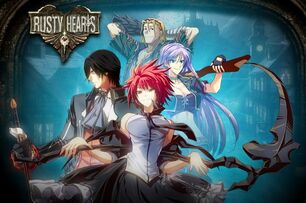 Rusty Hearts follows the story of the Golden Seal Team and the Specialists, which consists of Frantz, Tude, Angela and Natasha, all of whom are trying to stop the impending doom of Lord Vlad and his conspirators.
The characters also have alternative Avatars, which share their mechanics and do not appear in story cutscenes. These can be obtained from the Cash Shop.
Throughout the game, various non-player characters appear, playing supportive mechanical roles like giving quests or serving as shopkeepers, as characters in the larger narrative, and even as antagonists both major and minor.
Mechanics
[
]
See Rusty Hearts for an overview of features.