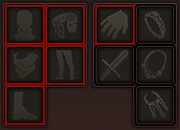 Armor is worn by the player to protect as well as give stat bonuses. The 3 materials that armor can be crafted from are Fabric, Leather and Metal. There are 6 parts to a set of armor: Head, Chest, Feet, Legs, Waist, and Hands. All armor have durability values.
Although they do not have character restrictions, characters gain a mastery bonus when wearing their preferred armor.
Estel is also able to craft unique armor (and weapons) using rare materials including Soul Pieces.
Community content is available under
CC-BY-SA
unless otherwise noted.